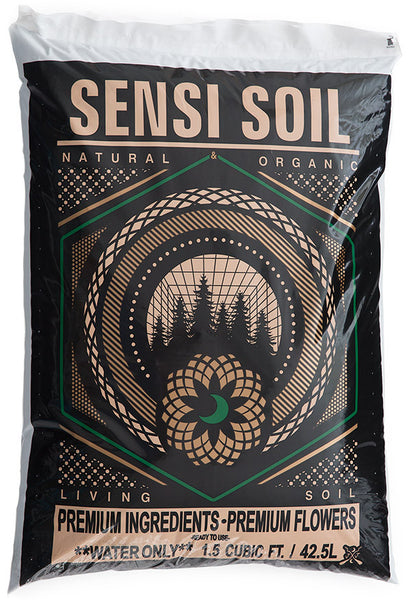 Customer Review
---
The Sensi Soil was a great choice for my garden, I added nothing but water to it and had a bumper crop, my heirloom tomatoes were delicious! This is my go to soil for all my plants!.
Christine from Jacksonville OR.
Sensi Sci
Sensi Soil Ingredients
INGREDIENTS
Coconut Coir Fiber, Coarse Sphagnum Peat Moss, Premium Worm Castings, Bokashi, Whole Cane Sugar, Dolomite Lime (for pH adjustment), Yucca (natural wetting agent), Premium Microbial Inoculum and Fertilizer.
GUARANTEED ANALYSIS
Total Nitrogen (N) 0.5%
0.45% Water Insoluble Nitrogen
0.05 Nitrate Nitrogen
Available Phosphate (p205) 1%
Soluble Potash (K2O) 0.1%
Calcium (Ca) 1.5%
Magnesium (Mg) 0.25%
Sulfur (S) 0.6%
Iron (Fe) 0.25%
DERIVED FROM:
Fish Bone Meal, Blood Meal, Bat Guano, Seabird Guano. Kelp Meal, Alfalfa Meal, Langbeinite, Magnesium Sulfate, Volcanic Ash, Glacial Rock Dust, Oyster Shell, Neem Seed Meal, Dolomite Lime.
---
Top Quality Soil
Inoculated With
Glomus interadices 0.01 propagules/g
Glomus mosseae 0.01 propagates/g
Glomus aggregates 0.01 propagules/g
Glomus tunicates 0.01 propagules/g
Bacillus subtilis 953 cfu/g
Bacillus megaterium 953 cfu/g
Bacillus amyloliquefaciens 953 cfu/g
Bacillus pumilis 953 cfu/g
Bacillus licheniformis 953 cfu/g
Trichoderma harzianum 119 cfu/g
Trichoderma kongii 119 cfu/g
Also contains non-plant food ingredients: 0.0004% Humic Acid (from Leonardite)
Information regarding the content and levels of metals in this product is available at: http://www.aapfco.org/metals.html